Feature Business August 2016
Andrea 3 R's
138 Railway Ave E
306-962-4270
Open Mon-Fri 9:00am-4:00pm; Saturday 12:30pm-4:30pm 
You never know just quite what you will find when you visit our August feature business. Located right on Highway 44, Andrea 3 R's is the perfect place to find a hidden treasure for your home. Economic Development is so proud to share the secrets behind the shop of this great local business – celebrating their 25-year anniversary this August.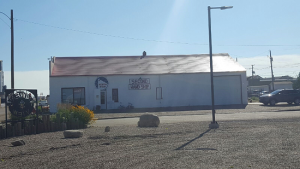 Named after Andrea Olorenshaw, daughter of Cliff and Margaret, Andrea 3 R's was started to fill the need for both a community thrift store and a livelihood for Andrea after she finished in the school system. Living with Cerebral Palsy, Andrea's career choices were limited, but she thrives under the routine and interactions that she gets at the shop. From Monday to Friday, shoppers are used to seeing Andrea's familiar face behind the counter along with long time employees Heather Kraft and Joyce Hodgson. Duncan King is also a big help at Andreas, working 2 days a week. The staff are always quick with a smile, and are happy to help you find what you need. Just walking in the door you get the sense that Andrea's is more than just a business, they truly love working together and serving their community. 
The shop has adapted over the years. 25 years ago, the plan was for the garage area to host a small repair facility. Once Andrea 3 R's got up and running, the sheer volume of items has kept that space busy as a second hand shop. 
Since Andrea's offers items on consignment from local community members, you never quite know what you'll find lining the shelves. A wide variety of household items, a few antiques, and some truly unique finds have made their way through the doors over the past 25 years. In fact, Margaret shared that some items are so unique, they become a conversation starter as both shoppers and staff try to figure out exactly what they're looking at! You won't find that kind of treasure in a big box store! Items – and customers – flow into the store from Eston and the surrounding communities every week. If it's been awhile since your last visit to Andreas, stop on by and take a look.   
Cliff, Margaret and Andrea wanted to take this opportunity to extend a sincere thank you to the support that they have had over the last 25 years. Running this business has been a blessing; Andrea truly lights up when she is at the shop. From Eston, to Kindersley/Elrose/Rosetown/Kyle/Eatonia/Brock and beyond – the support of the public is what has made the business possible. The staff at Andrea's invites you to come down for their 25 year celebration the week of August 22-27, with Wednesday August 24th being Andrea's Wonderful Wednesday. Come for a coffee, treat and a shop – Andrea would love to see you!