Sponsorship Press Release September 11, 2017
It's an exciting time in Eston for our community and there's an opportunity for you to be involved. We are embarking on facility enhancement and look forward to the positive impact this will have.
The Eston & District Recreation Board would like to partner with you, trusting you will see the value in this meaningful project and needed upgrades to the heart of our community.
Your investment in children and youth in sport is admirable, and we believe this project is in line with your community support mission.  We are hopeful of your consideration to make a profound impact, and are confident you will enjoy the benefits from the associated platforms of recognition. We are open to discussing alternatives and have respectfully included options.
We are excited about this program and partnering with you.   Your sponsorship will ensure not only much needed enhancements to the heart of our community – our community complex and fairgrounds but that the recreational programming it offers will continue to grow and flourish in Eston. Moreover, you are assisting us in promoting healthy lifestyles, happy families, and a thriving community.
Thank you for your consideration and look forward to connecting with you to discuss and secure your opportunity to make a difference in our community.  
Sponsorship Overview
Recreation Sponsorship Policy
This policy provides a framework for decision making and will define sponsor benefits for the Eston & District recreation facilities, programs and events while maintaining the integrity of the growing brand and the Board's commitment to its community and reputation.
Selection of Sponsors – Multiple Interested Parties
The Eston & District Recreation Board's ultimate goal will be to ensure that all interested parties are satisfied with the process.
The following prioritizing questions will be adhered to in sponsorship selection and appointment determination when there are multiple businesses interested in the same opportunity:
Is there an alternative opportunity that can be offered or packaged to one of both parties?
Do the interested parties have a sponsorship history with the Town and/or Recreation Department?
Are the businesses local? Local is defined as "a business owning, leasing or renting property to conduct commercial operations within the Town of Eston or RM of Snipe Lake.
If a decision is not determined with the above criteria, a final choice will be determined by random selection by the Eston & District Recreation Board.
Sponsorship Criteria
All sponsorships with the Recreation Board must meet the following criteria:
The Recreation Board will have the right to accept or reject a potential sponsor.
The goals of the sponsor must align with the philosophy of the Town and RM and not negatively impact their positive reputations.
Sponsorship should be made for a minimum 1 year term and a maximum 5 year term (with the exception of Title Sponsor).
Exclusivity will be granted to sponsors on a case-by-case basis and will be at the discretion of the Recreation Board.
A cash or in-kind sponsorship must exceed the monetary value associated with giving recognition.
Sponsorship that appears to be unethical or in a conflict of interest with the Town's or RM's philosophy and values will not be accepted.
Sponsorship will not be accepted from the following: those involving a producer/manufacturer of tobacco products; those involved in criminal activity or pornography; a political party or group with a primary focus of politics; and religious activities or affiliations. Those sponsorships surrounding events will be given special consideration to explore sponsorship involving a producer/manufacturer of liquor, if liquor is served at the event.
Sponsorship Benefits
Sponsors should feel that they are creating a win-win…win situation in a partnership with the Recreation Board and most importantly, their target market.
Contact Information
For more information, please contact Town of Eston Recreation Director; Chris Keleher by telephone at 306- 962-4460 or email to chris@eston.ca
 Seats for Citizens
The Eston & District Recreation Board is proud to present a fundraiser supporting the purchase of 95 new theatre seats for the arena lobby in the Community Complex.
Donations over $10 will receive a tax deductible receipt. Donations of $200 or more will be recognized on a plaque, whereas donations of $1,100 will have the donor's name on the back of a seat.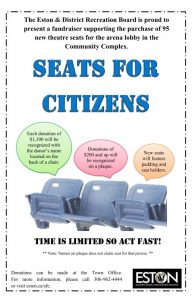 Download a donation form contact the Town Office at 306-962-4444 for more information.